In recent years, with the application, development, and deepening of emerging technologies such as big data, blockchain, cloud computing, and artificial intelligence in the financial industry, Internet finance, banking mobile services and self-service have become increasingly popular. At the same time, traditional bank branches are also quietly changing.
1. The development status of bank outlets
Although due to the rapid development of online banking, APP, and self-service, there are fewer opportunities for the public to go to bank outlets for business. However, in the process of handling high-value-added business areas such as new accounts, financial consulting, and wealth management, customers prefer face-to-face communication. Especially for those who have been forgotten by Internet technology, bank outlets still have an irreplaceable role.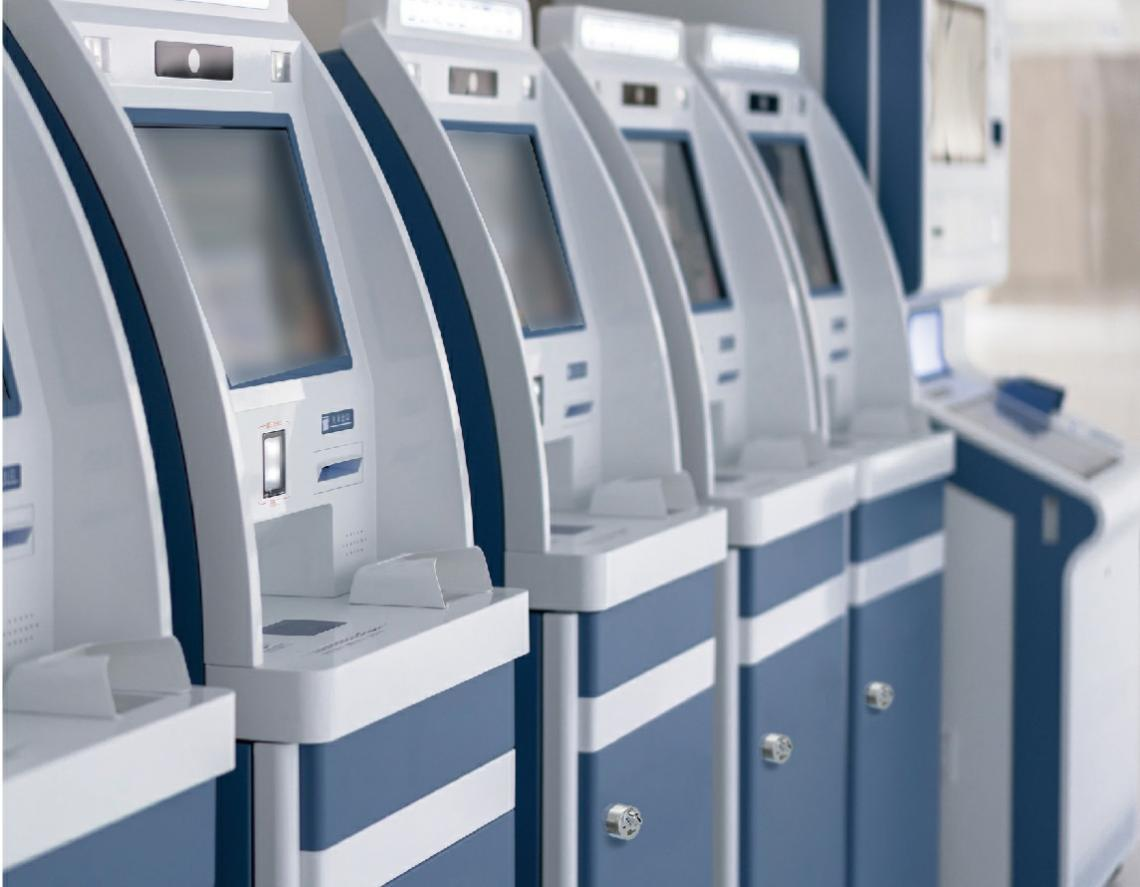 Therefore, in the background of the new era, bank branches have been endowed with many new functions and assumed new missions.
The traditional bank business outlets refer to the transaction operation outlets centered on the bank. These outlets generally have problems such as service homogenization, less personalized service, insufficient modern decoration, and difficulty in attracting young people. Therefore, with the help of science and technology, it has become a common practice of current banks to create a new generation of unique and attractive intelligent banking service outlets.
The new intelligent bank outlet mainly focues on customer service, and building the brand image of the bank from the aspects of new scenes, new processes, new equipment, and new services, so as to bring new experience to customers.
Therefore, the new generation of smart bank outlets will have the following characteristics:
Intelligentize
: by introducing or upgrading intelligent equipment, with the comprehensive application of biometric technology and big data analysis technology, and improve customer service ability, provide bank customers with a more convenient and personalized customer service experience, so that customers can obtain financial services anytime, anywhere, and at will.
Efficiency
: through the separation of front end and back end, high cabinet and low cabinet business separation, process optimization, remote experts, and other network solutions, and cooperate with the construction of the backstage business centralized processing center, the service capacity and service efficiency of the network can be improved, and the efficient network can be built.
Grading
: The new generation of bank branches will be "make it big" or "make it small".
"Make it big" refers to flagship outlets, which focus on brand effect and community relations, provide complete banking service solutions, and establish high brand value.
"Make it small" refers to the light or lightweight outlets. This type of network will become a large number of mainstream outlets. Provide limited and necessary banking services, provide self-service and assistance services, and achieve sustainable development of business through community-based, subdivision operation and other ways.
Branding
: the new generation of bank outlets will play an indispensable role and become an important place for bank image display, brand promotion, and service experience. In fact, only outlets can give bank customers a full range of personal experiences, and improve customer experience and customer stickiness.
2. Bank network security pain points
With the increasingly clear trend of intelligent transformation of bank outlets, the artificial counters of each outlet are gradually replaced by various self-service equipment. In the daily operation and maintenance management work, the different mechanical locks and key brands on the cabinet doors of electronic equipment in various scenes, not only increases the difficulty of network key management, but also the cumbersome operation of employees, and multiplies the risk.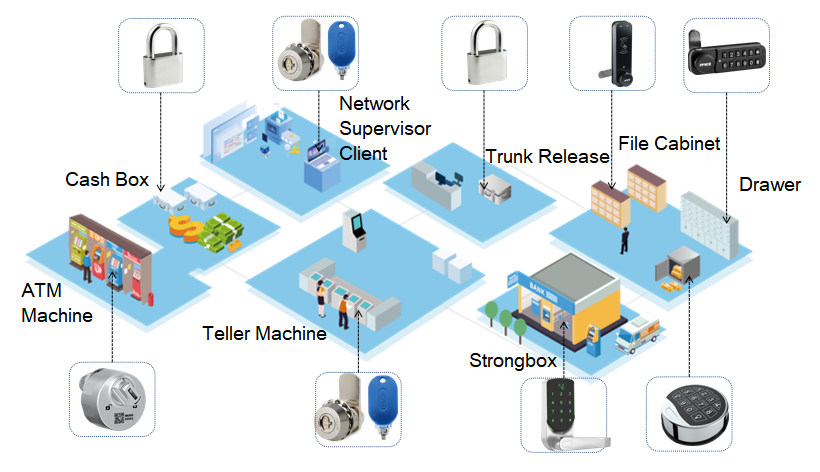 Based on this background, financial institutions such as MAKE Bank have provided integrated solutions for
Intelligent Lock.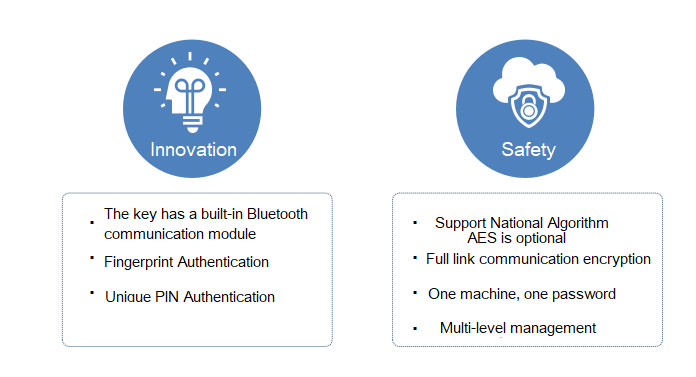 The
intelligent lock group solutions of MAKE Bank are composed of six parts: Business Door Lock, Electronic Cabinet Lock, Bluetooth Tongue Lock, Safe lock, Intelligent Padlock, and Passive Electronic Lock. It has two core advantages of innovation and security, which provides an integrated security solution for the construction of intelligent industry networks.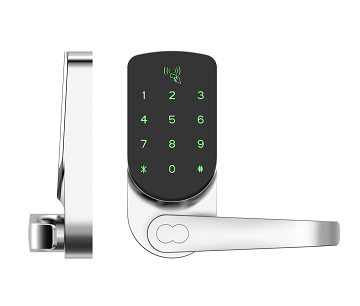 Business Door Lock, mainly suitable for all kinds of security doors in the bank.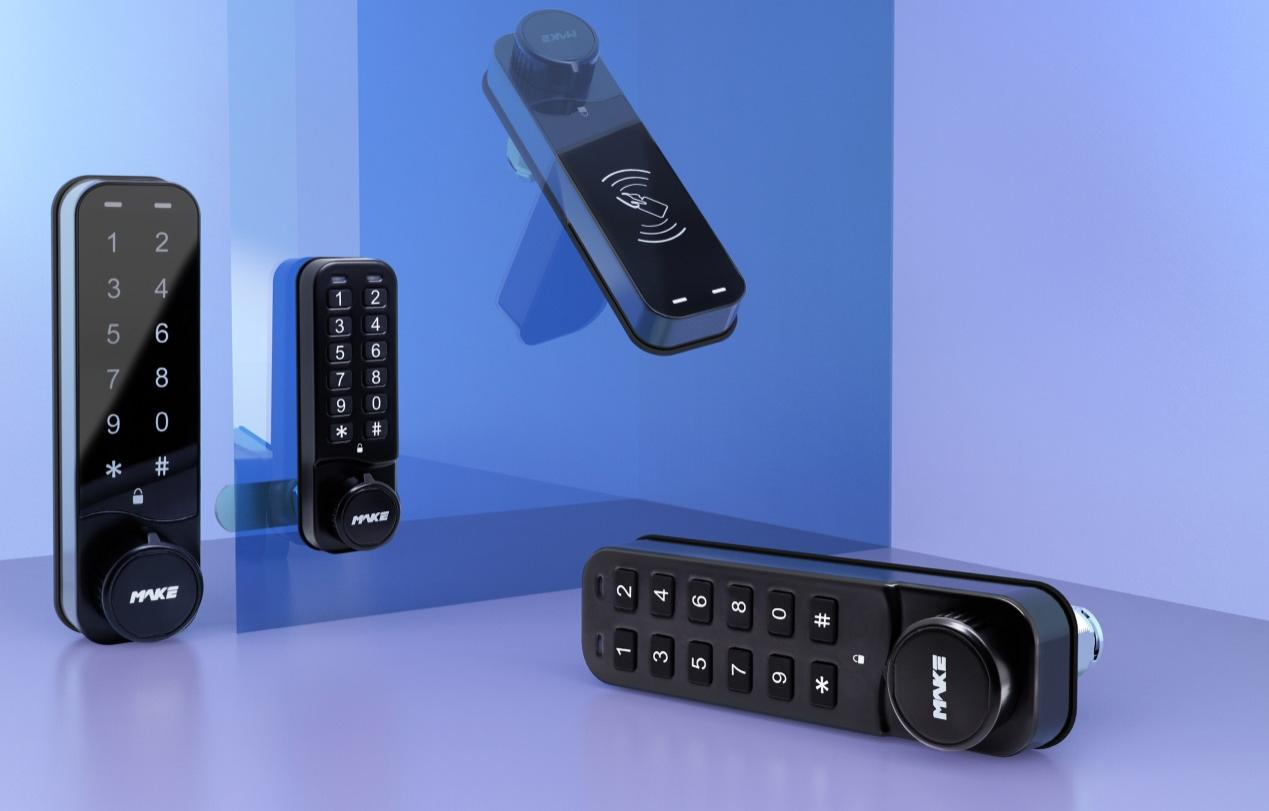 Electronic Cabinet Lock, suitable for the file cabinets and drawer cabinets in the bank, provides a daily security guarantee for the file cabinet and drawer cabinet.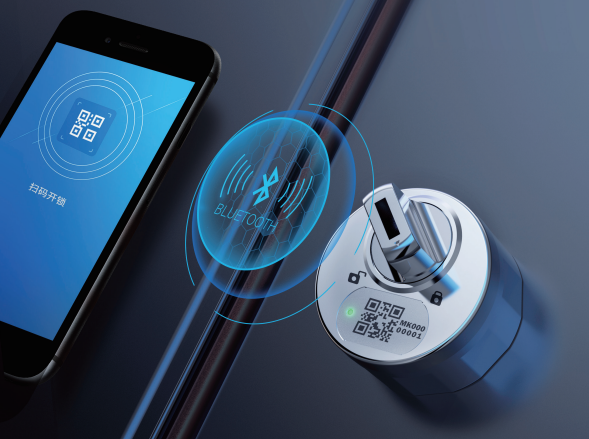 Bluetooth
Cam Lock
, is mainly suitable for all kinds of smart teller machines, business card-making machines, and all-in-one machines in smart banks. Bluetooth Cam lock adopts the way of scanning code unlocking, no key required, realizing the easy and safe management of the device.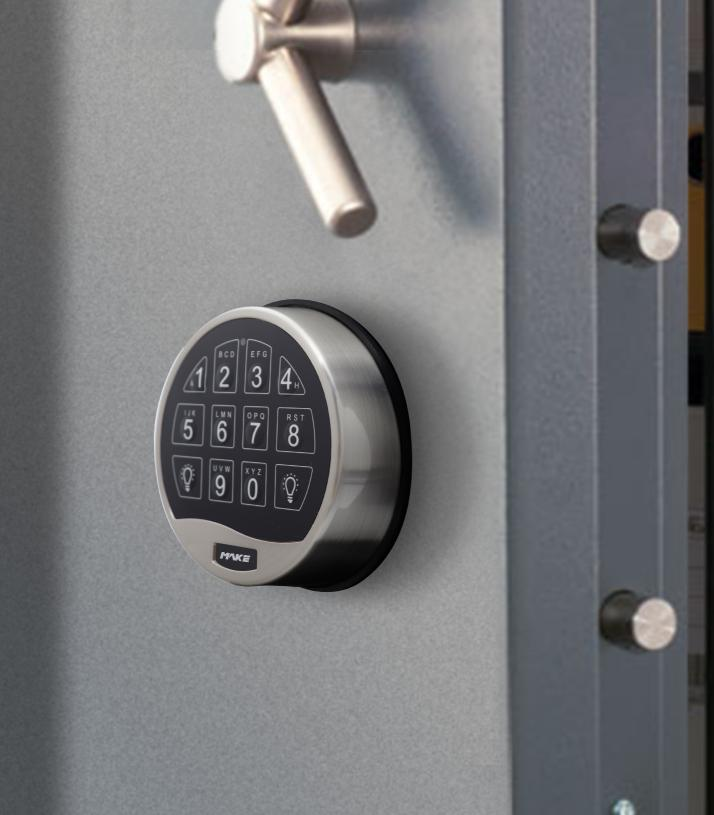 Safe Lock
, suitable for the safe of bank outlets, has a multi-level management authority function, self-locking and locking function, and safe, reliable, and convenient management.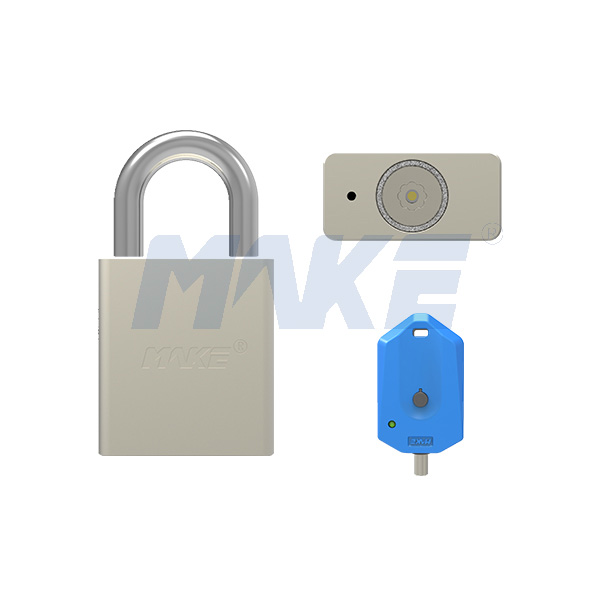 Intelligent Padlock, suitable for banknote box, tail box. It is made of high strength carbon steel material, equipped with high security passive electronic key system, high safety factor, strong anti-theft ability, and can provide sufficient security guarantee for the banknote box and tail box.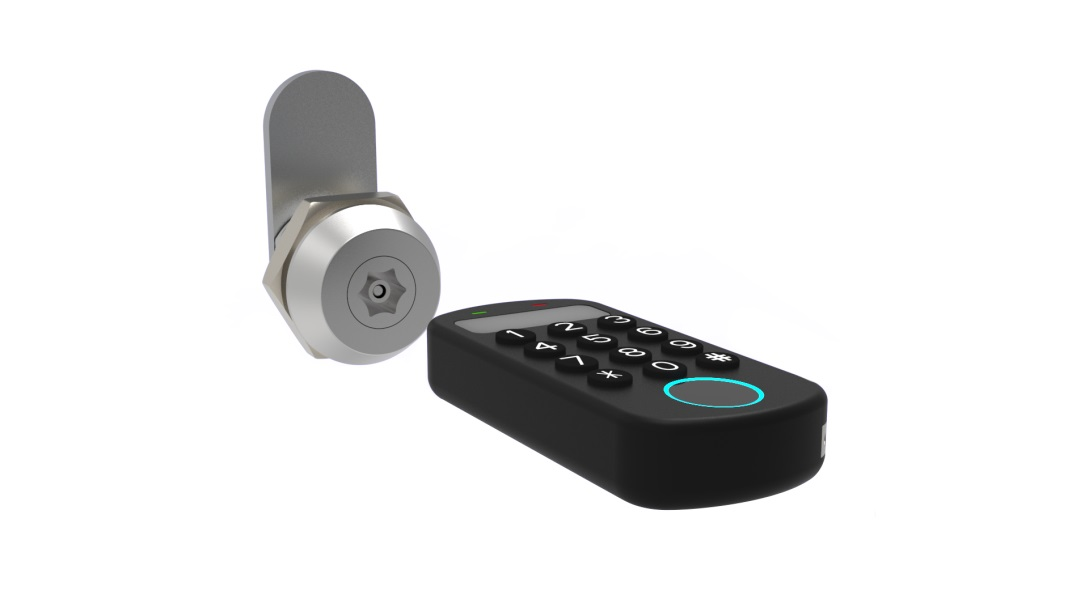 Passive Electronic Lock
, suitable for financial terminal, card issuing box, card recycling box, etc. Passive Electronic Lock with fingerprint key, mainly powered by the key, the lock body has no power, no wiring, has the function of "one key more open", can be authorized and tracked when used, to meet the information, intelligent use and management needs of the network.
Through the
smart lock integration solution, it can help solve the following risks and security risks:
Resolves the risk of losing the mechanical keys and being copied.
The switch lock operation is managed without trace, which solves the inefficiency of personnel records and the risk of data tampering.
Realized the idea of "a key to open multiple locks", and solved the personnel changes, the complexity of the standby key storage process and other problems.
The switch lock forms a complete data record and avoids the risk of vulnerability caused by human control.
The management platform can be authorized and tracked, and can carry out unified and easy data management for the ATM machine, banknote box trunk, Treasury, safe and related personnel in the bank outlets.
On the basis of ensuring the safety of bank equipment, the intelligent lock group solution of MAKE Bank can effectively reduce the cost of security maintenance, provide reliable guarantee for daily operation, and so that the intelligent bank outlets can better serve the public!