Nowadays, with people paying attention to drinking water benefiting their heath, there are
water vending machines
everywhere in many cities. They are widely used in neighborhoods, schools and other places. It is very convenient for people to throw coins or swipe their cards to get water, which not only drives the demand for
water vending machines
to increase, but also greatly increases the demand for water
vending machine locks
.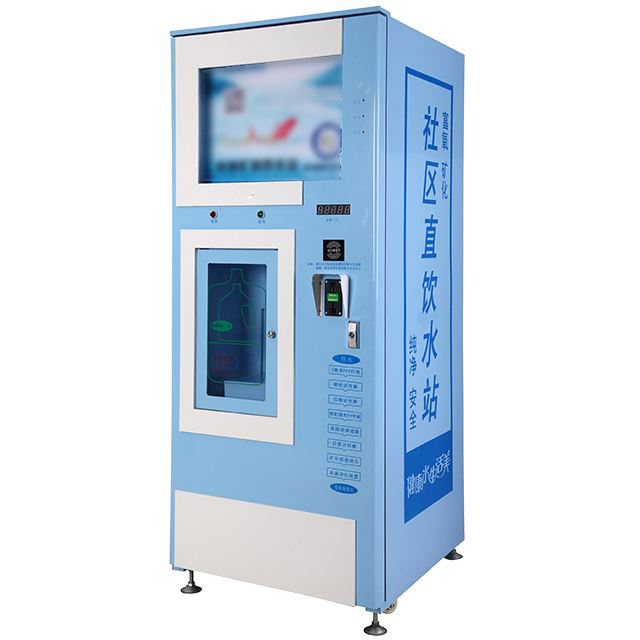 However, while
water vending machines
bring convenience to everyone, they are regarded as "cash machines" by thieves. Recently, the police in a certain place arrested a thief and recovered more than 40 kilograms of coins (over 15,000 yuan) from his home.
Theft cases of
water vending machines
frequently occur and the frequency of the cases is increasing year by year. The reasons are as follows: First, the poor maintenance and management of the machines, creating a opportunity for thieves to commit crimes. Secondly, the locks used in
water vending machines
are not safe enough, and there are some problems, such as high cross unlocking rate, simple lock structure, locks easy to be picked. In addition, because
the water vending machine
is exposed to the outside all day, the probability of corrosion is higher, affecting the normal operation of the equipment. Therefore, it is imperative to use high-quality and high-security water vending machine locks.
For an enterprise dedicated to providing security, it is our mission and our bounden duty to provide security for all kinds of
water vending machines
.
The vending machine lock is a kind of lock commonly used in
water vending machines
. As a well-known lock factory in China, Xiamen Make Security Technology Co., Ltd. has advantages in R & D, manufacture and service of vending machine locks. Make meets various needs of customers through independent research and development, ODM, OEM and JDM. And providing customers with one-stop security solutions and product customization are the strengths of Make.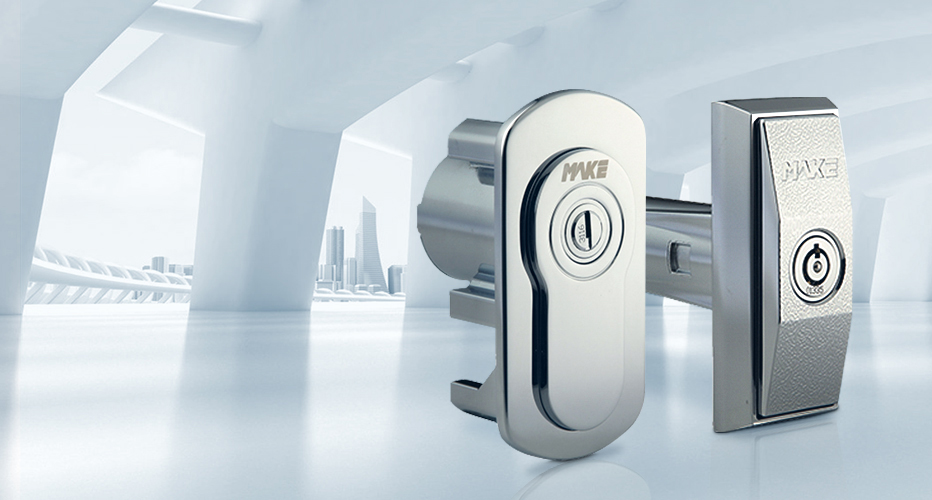 Make adds American, Japanese and European styles to the design of the vending machine locks and tailors a variety of high-grade locks for self-service systems and equipment. Lock cylinders with different structures can be configured according to customers' requirements for safety, including tubular structure, double-sided pin structure and disc key structure. The lock is varied, safe and reliable.
American-style vending machine lock
MK200
is made from zinc alloy. It has a novel and fashionable appearance, an angular surface, special frosted and opaque. This lock is equipped with a tubular key system, with the bitting of more than 10,000 and a high safety factor. In order to convenient to use the lock, Make also improves the operation mode of MK200. When users want to open the lock of
the water vending machine
, they only need to turn the keyhole with the key, and the lock will automatically eject and open. To close the door of the machine, users only need to push the handle to lock the door quickly. Thus, the opening and closing operation is very convenient and external force is needless.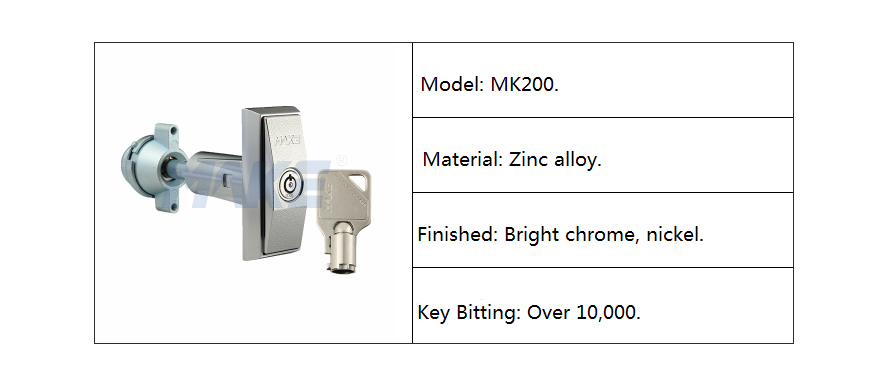 MK200 is equipped with three kinds of T-handle to choose from: the ordinary T-handle, the solid T-handle and the T-handle with the anti-drill steel bar. Lock nuts, ordinary nuts and linkage rods are also available. The lock nuts are equipped with three-start elastic screws to push the T-handle to lock the door quickly, which is convenient and safe.
Water vending machines
provide convenience for everyone's life. In the future, with the wider and wider application of
water vending machines
, users will further upgrade their demand for
water vending machines
. Therefore, operators should pay more attention to the upgrading of technology, management and service of
water vending machines
, and choose water vending machine locks with high safety to optimize equipment management and service. Only in this way can operators win the favor of customers in the fierce competition. If you have any needs, please contact us.