The car roof rack is a support frame or component installed on the top of the vehicle body to securely and conveniently fix the luggage. It is generally used on hatchback station wagons, SUVs and MPVs.
With the wide use of car roof racks, locks have become an important accessory for car roof racks. Why do roof racks use locks? In fact, the roof rack lock can not only prevent the luggage rack from falling, but also prevent the roof luggage from being stolen.
Among the current roof rack locks, most of them are
cam locks
, which have the functions of anti-theft, anti-prying and anti-vandalism. As a cam lock solution provider, Make also provides customers with a series of locks that can be used on roof racks.
The tubular cam lock is a roof rack lock produced by Make, including MK100B series, MK101B series and MK101AS series, which is made from zinc alloy, copper, stainless steel and other materials. The surface is treated with special processes such as bright chrome and bright nickel, which is fine and metallic, and the key is a tubular structure with high security. The working length of the lock tongue can be customized for each series according to customer needs, and anti-drilling steel balls are provided to effectively prevent the lock from being damaged.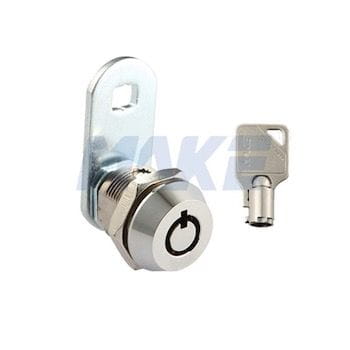 The Tubular Cam Lock made by Make has a universal system, which can open different types of locks through key management; this lock has two specifications of 7 pins or 10 pins, and the number of key teeth is more than 10,000. Compared with the same lock type in the industry, the tubular cam lock has a better configuration and is safer and more reliable.  
The safe and reliable blade lock can also be used as a lock for the car roof rack. The blade lock made by Make is made from high-quality materials and processed by a high-precision stamping process; the manufacturing process is exquisite. It can adapt to different use environments, and at the same time has good mechanical properties at room temperature and wear-resistant and corrosion-resistant properties, which can provide sufficient security for the car roof rack.
The car roof rack lock made by Make makes you safe and secure when you go out, whether it is for a drive or a long-distance trip. Please contact us for details.