The new energy storage cabinet is a device for storing electric energy. It adopts advanced energy storage technology to solve the intermittent and uncontrollable problems of renewable energy and ensure the stability of the energy supply.
With the rapid development of the industry, the demand for new energy continues to increase, and energy storage technology has gradually become the focus of the industry. As important energy storage equipment, new energy storage cabinets play an important role in the energy field. At the same time, the new energy storage cabinet lock has also become an important tool to ensure the normal and stable operation of the equipment.
As a professional comprehensive service provider of industrial locks, Make provides various styles of new energy storage
cabinet locks
. With high-quality locks and perfect services, they can meet the diversified needs of customers and provide security for energy storage cabinets, ensuring the normal operation of the new energy storage cabinet. Make energy storage cabinet locks mainly include the following types: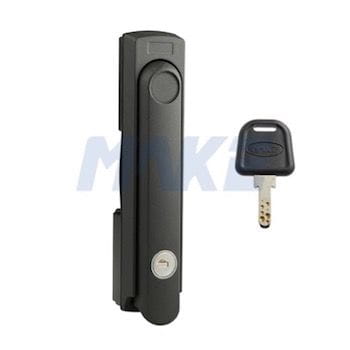 The mechanical chassis cabinet lock
It adopts a mechanical key structure and is equipped with high-security key systems such as marbles and blades. There are tens of thousands of security keys, which is more secure. The management key is kept by the responsible person, and the unlocking is smooth and convenient, which greatly improves management efficiency.
The electronic chassis cabinet lock
It has been upgraded on the basis of the mechanical flat lock. The electronic lock is equipped with an indicator light and a signal input device, which is easy to operate, safe and reliable; with a protective cover, the protection level is IP65 protection, which can easily realize waterproof, rustproof, dustproof and other functions, and doesn't have problems such as blocking and rusting due to the exposed lockhole.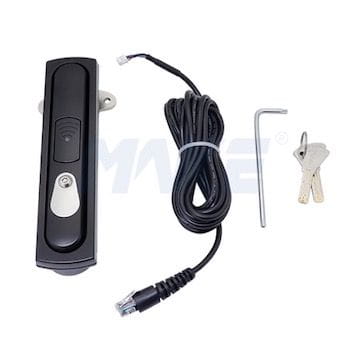 Make chassis cabinet locks are made from zinc alloys, with high-quality surface treatment, which is not easy to rust and corrode, and can easily cope with the harsh outdoor environment. The handle adopts the non-correct operation to avoid damage to the handle due to improper operation. Installation holes are standardized, which are convenient and can be opened quickly; the door can be opened by turning left and right.
The development of new energy storage cabinets has brought new development opportunities for cabinet locks. Make will continue to work hard to provide customers with more high-quality new energy storage cabinet locks.