In the operation and maintenance management of the chassis and cabinets, the chassis and
cabinet locks
are an indispensable part. They ensure that the chassis cabinet is opened when needed and remains closed at other times. This is not only to protect the normal operation of the chassis cabinet but also to prevent accidents from accidentally touching the inside of the chassis cabinet.
In the past, most of the locks used in chassis and cabinets were mechanical locks. With the upgrading of chassis and cabinets, traditional chassis and cabinet locks are facing various challenges. On the one hand, the mechanical lock cylinder is easy to open, which poses a safety hazard; on the other hand, the mechanical keys are easy to copy, have a large number, and are difficult to manage. Once they are lost, the cost of replacing the lock is high.
To improve the problems existing in traditional chassis and cabinet locks, many lock manufacturers have made improvements. As a cabinet lock provider, Xiamen Make Security Technology has launched an electronic handle lock, which not only improves the security of the cabinet, but also solves the key management problem, and makes the security and anti-theft of the cabinet improved.
The electronic handle lock made by Make is made of zinc alloys, which is durable. It has high-quality surface treatment and IP65 protection level, which can play the role of waterproof and dustproof. The keyhole is provided with a dust cover, which can prevent dust and sand from entering the keyhole, protecting the lock cylinder, and can be used in harsh outdoor environments.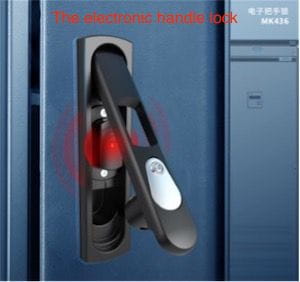 The electronic handle lock has a variety of unlocking methods such as mechanical keys and cards, and there are multiple options to meet different unlocking needs. The lock adopts the RS485 protocol to remotely control the unlocking, which is convenient and fast, and does not require on-site operation, solves the disadvantages of traditional mechanical locks that need to carry a large number of keys and search for keys, and improves the efficiency and safety of daily operation and maintenance.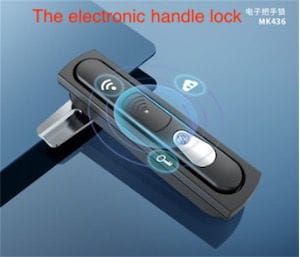 To prevent the occurrence of forgetting to close the lock, an unclosed alarm is provided for Make electronic handle locks. Users can set the alarm time according to their needs to remind users to close the lock in time to prevent forgetting to close the lock and avoid theft of the chassis and cabinet.
With the upgrading of cabinets, the demand for cabinet locks will gradually increase. Make will continue to optimize the electronic handle lock, and strive to be a good butler of the chassis and cabinets.