In the fast-paced time, vending machine brings lots of convenience to our daily life. And Make Locks manufacturer provides a series of
vending machine locks
to protect the safety of machine.
Vending machine lock
is one of our main products which account for 90% of Chinese market. So where there is a vending machine, there is Make Locks accompanying you.
As the first domestic manufacturer of vending machine
lock
, Make Locks has strong capability in R&D and manufacture. We aims to bring innovation to the vending machine lock industry and more humanistic products to our daily life. Through unremitting efforts, Make Locks designed a new style
vending machine lock
--
MK214
in 2016, which is a product in Make Locks.
Compared with traditional vending machine locks,
vending machine lock MK214
has its own speciality and advantages. Let's compare it with the traditional one so that we can have a more comprehensive understanding of the newly designed MK214.
Exterior
:
Vending machine lock MK214
have a fashionable shape with smooth lines rather than the traditional rectangle. Its unique and elegant shape is eye-pleasing.
Safety
: AS we know, the lock shell of traditional vending machine lock has a shape of rectangle with four sharp corners. Due to the traditional design, part of the lock always stays outside. To some extend, it is not safe enough for people, especially for the children who are playing. Conversely,
vending machine lock MK214
can totally be installed inside the machine rather than keeping parts of the lock outside, which can prevent the customer being hit accidentally by the outside parts.
Convenience
: With accurate measurement and design, when we lock the machine,
vending machine lock MK214
can be pushed into the groove directly and smoothly without inserting and rotating the key. It is worth mentioning, when open the lock, traditional vending machine lock have to rotate the handle so that the lock can be separated from the locked nut. But when open the
vending lock MK214
, just like the door lock, you can open the lock conveniently without rotating the handle.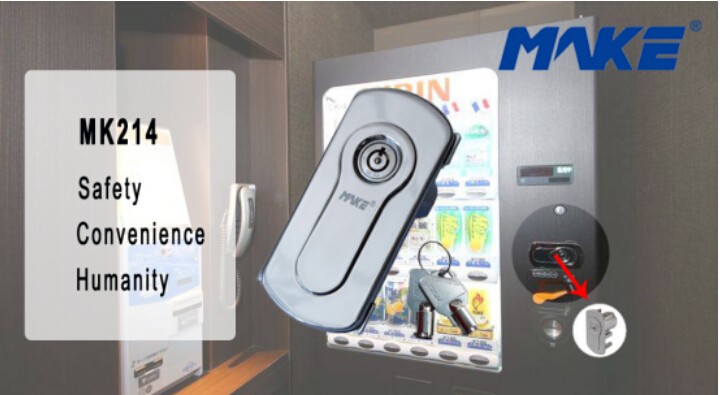 Vending lock MK214
, it is an innovative product with humanized design. It's the ideal lock for beverage vending machine, flower vending machine, wine vending machine etc. More information, please contact us at
sales@makelocks.com
, and we will reply within 24 hours.